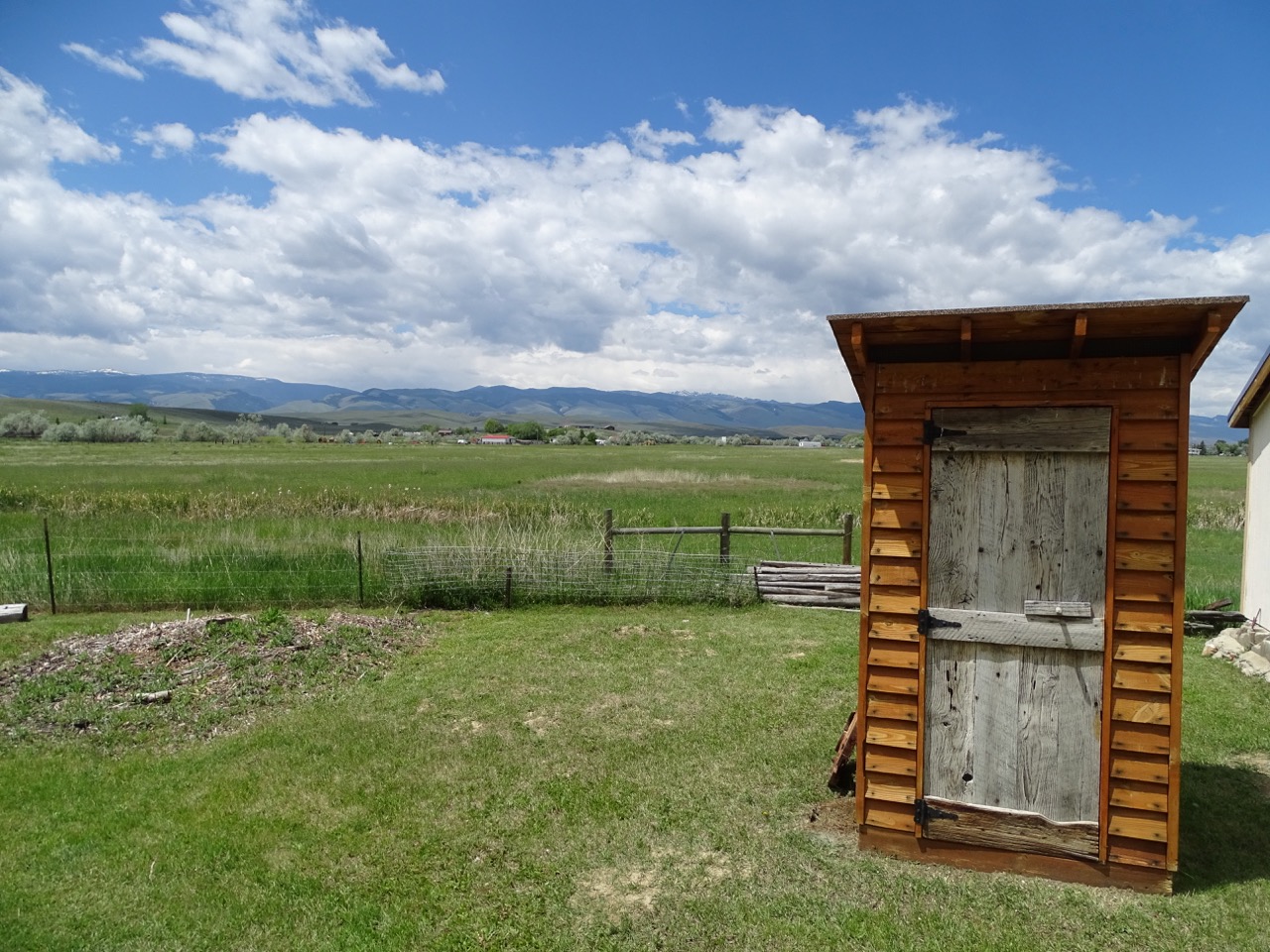 We are on the Wind River reservation in Wyoming, the seventh largest Indian reservation. A place of great beauty, with broad fertile valleys surrounded by incredible snow peaked mountain ranges. In the late 1800's Northern Arapaho were brought to this land that had earlier been given to the Eastern Shoshone – two peoples with a history of warring placed by the government on the same piece of land, deliberately, hoping that they would kill each other off! Although there is still an unspoken dividing line between these two nations – some families have found unity within marriage, now known as Shoraps! To add to the tensions on the land, there is much racism (some say hate) from the border towns of Lander and Riverton. A local fireman told us that when a woman is reported missing, a high alert is immediately sent out to all emergency responders. Unbelievably, if she is Native, there is no alert sent!
Our drive to the reservation through Washington, Oregon and Idaho was itself an adventure! Stopping at the impressive Shoshone waterfalls on the Snake River, (the Niagara of the West), where we encountered yellow bellied marmots who came out to meet the intruders in the late evening sun. Later, we found ourselves on a stationary interstate, after an accident outside Twin Falls. We were eventually diverted into Utah and a night's lodging in a rinky dink cowboy farming community called Snowville. You can imagine my surprise when my early morning walk discovered zebras in a paddock close by! Our journey continued with wonderful breath-taking moments, beautiful rolling hills covered with amazing wildflowers, solitary red-tailed hawks soaring overhead and an osprey bringing fish back to his nest. In the late afternoon we travelled through the Teton National Park – an incredible snow-capped mountain range, impressive lupin fields and numerous crystal-clear lakes. Some pronghorn deer and elk wandered out of the thickets to say hello!  We ended with a drive through the snow covered Togwotee Pass (9,655 feet), descending into the reservation.
Fort Washakie, (named after a renowned Chief) is the oldest neighbourhood on the Wind River reservation, a tight-knit family-oriented community that has to deal with poverty, gambling at the Shoshone Rose (known locally as the 'Stingy Rose", one of four casino's) alcohol and drug abuse, and a shorter than usual life expectancy. There are so many dying that there is a saying amongst the people here, that you will never go completely hungry because there are always potlucks after burials. During our two weeks stay, there were 3 funerals at the Blue-Sky Hall, a community meeting place and basketball court.  Our gathering had to find another venue with 48 hours' notice due to an unexpected death. Memorial services for those passing on always take precedence.
In a land where Native Americans were not granted citizenship until 1924, it was a real honour to meet Patrick Goggles who is only the second First Nations in Wyoming, to take a seat in the House of Representatives. His Grandmother was six at the Battle of the Little Big Horn. As he told some of the stories of his people his eyes locked on Gene and I – men have no eye contact with woman amongst the Northern Arapaho. The past atrocities by Europeans still haunt his stories as he speaks proudly of a newly opened school building that encourages classes in Native language, beadwork, regalia and dance – subjects forbidden in the residential school system that tried to assimilate his people to the incoming culture. So often it is protocol that opens the door to friendships and when we gave gifts at the end of our meeting he was visibly moved at our honour and understanding of his people's customs.
Our home during our stay has been in a trailer on the Wind River Basin. Only a few people live in houses here. This prefabricated dwelling became a hub of activity as many people dropped by to share stories, food and to plan and pray for the forthcoming gathering on the reservation. Rhoda Anderson Singing Star, who had recently returned to the land, had long dreamed about encouraging her people in their Christian beliefs using their indigenous expressions. Something that was still widely misunderstood and in most other churches on the reservation, forbidden.
As we journey with different peoples around the world, we have realised that each have certain traits and characteristics that stand out – it's as if they understand certain 'colours' of God in a deeper way. Amongst the First Nations, one of these 'colours' is honour. Every gathering, every meeting, every powwow starts with the protocol of honour. And so, it was to be at this convergence. It started with a Grand Entry, where an ornate Chiefs headdress, representing God, the Great Creator, was paraded in, followed by important guests, elders and all the participants from many nations wearing their regalia. This elaborate beautiful symbolism was to give honour to YAHUshuA (Hebrew word for Messiah), the Chief of all Chief's. Then the Eagle Drum Group of the Northern Arapaho with Theron Spoonhunter, a respected tribal member, together with his two brothers Marlin and Harvey and drumkeeper Mike Ridge Bear played a drum honour song. Theron was extremely excited and honoured at the invitation to play a drum honour song during the Grand Entry. Sadly, he had never been asked before to play drums at a Christian event! It was encouraging to hear his wisdom about the significance of the drum in his culture and the protocol behind each song. Likewise, he was fascinated by some of my percussive instruments from around the world and we spent some special times sharing stories.
After the gathering, we were taken on a trip into the mountains, by a young leader from the reservation, finishing at Moccasin Lake, a stunning oasis at nearly 10,000 feet. Together with Grand Chief Lynda we spent time praying over the land and shared life stories. As we travelled on car width gravel paths and around hair pin bends we would stop now and again to look at the stunning views on the way. During these brief pauses on the journey we often came across pockets of hidden beauty that were begging to be noticed. The day finished with us meeting another leader who was also a flute maker – we sat in the evening light, listening to the sounds of the land and watching white tailed deer as he told stories of his people …. again, gift giving protocol opened a door.