I have really enjoyed learning Tahitian log drumming from a master player in Kauai. Tepairu Manea also makes Polynesian instruments, you can check out his stuff here. On Mark Rileys new recording we used a Tuerre playing a traditional Tahitian rhythm as a foundation for one of the new songs.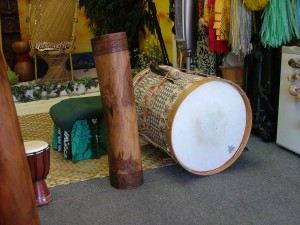 The Tahitian bass drum (often know as the pahu) is played with a soft beater. The beat holds all the players in the unit together. In smaller ensembles one of the log drum players will play the bass with his other hand. His set up will look like this picture. They always have cool fabric designs on the drum shells.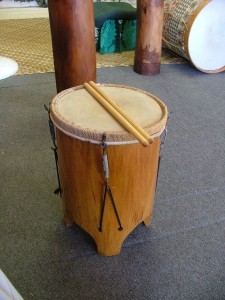 The last drum in the Tahitian ensemble is the Fa'atete.